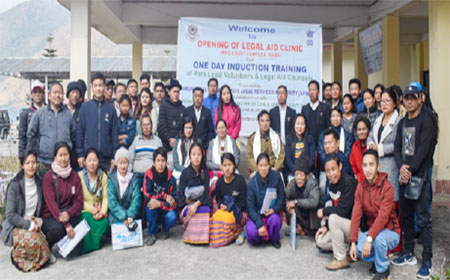 HAWAI, Feb 18: The Arunachal Pradesh State Legal Services Authority (APSLSA), in collaboration with the Anjaw district legal services authority (DLSA), opened a legal aid clinic in the JMFC court complex here on Tuesday.
APSLSA Member Secretary Jaweplu Chai, who was present at the inauguration, said "it is the right of every citizen to have access to free legal services, especially people from marginalized backgrounds and those who reside in remote areas."
She elaborated the various functions and activities of the clinic, which will provide free legal services and generate awareness among the people of Anjaw.
ADC Ayushi Sudan said that, owing to the challenges of accessibility, transportation and communication in the district, "people are lacking in legal literacy and awareness with regards to rights, acts, schemes and laws," and encouraged the district's people to avail the clinic's services.
Anjaw SP Habung Hailyang gave assurance that the police would work together with the legal aid clinic in creating legal awareness among the people.
The APSLSA and the DLSA also conducted induction training for paralegal volunteers and legal aid counsels on topics such as function and activities of the legal services authority and legal aid clinics, roles and responsibilities of paralegal volunteers and legal aid counsels, and schemes under the NALSA and the state government.