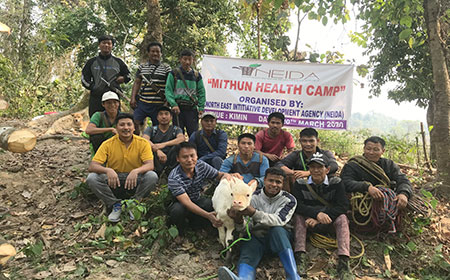 UPPER JUMI, Mar 20: Officials of the North East Initiative Development Agency (NEIDA) and the Tata Trust Initiative vaccinated 82 mithuns during a vaccination camp against foot and mouth disease (FMD) at Upper Jumi village in Papum Pare district on Friday as part of their livelihood promotion programme.
The officials also advised the mithun farmers regarding cattle medication and related veterinary care.
Project associate, Dr Kesang Yeshi Tukshipa, who inaugurated the camp, lauded the efforts of the NEIDA in mithun conservation.
"Mithun is considered one of the most important economic assets in the tribal society," he said, and encouraged scientific mithun rearing, besides stressing on regular vaccination of mithuns.
The farmers were provided with deworming tablets, diarrhoea medication, multivitamin supplements, antibiotic sprays and ointments for their mithuns during the camp.