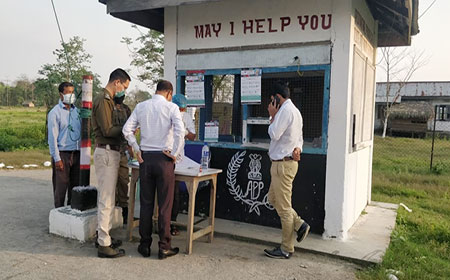 [ Pisi Zauing ]
MIAO, Mar 25: Changlang Deputy Commissioner R. K Sharma and Superintendent of Police Mihin Gambo on Tuesday inspected the police check gates of Namdang, Namchik, Bordumsa and Modoi in order to check proper implementation of government advisories in view of coronavirus.
Both DC and SP also inspected schools at Diyun and identified CHC, Diyun as an additional makeshift isolation ward for coronavirus suspects.
The deputy commissioner appealed to the general public to refrain from forwarding and posting of fake news on social networking sites.
"The only thing people should do during lockdown period of 21 days is stay at home with family members and stay safe", DC said, warned the violators of traffic rules and lockdown order of stern action.
While stating that 'social distancing and self quarantine are the only ways to secure and protect oneself from the jaws of coronavirus", the SP also appealed to the public to stay indoors throughout the lockdown period till further orders.
"At this adverse moment, I appeal the public to extend cooperation by exercising adherence to the government advisories so that we can defeat the virus", SP added.
Meanwhile, the United Miao Mission (UMM) urged the state government for immediate issuance of personal protective equipments (PPE) to the doctors and nurses and other officials who are at the forefront in prevention of coronavirus.