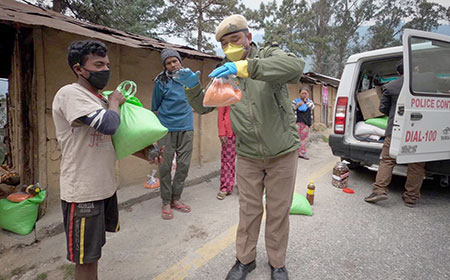 AALO, Mar 30: The ongoing lockdown seems to be better enforced in the rural areas than in the urban areas of West Siang district.
The villagers of the district, adhering strictly to what they have been advised to follow in view of the Covid-19 pandemic, are in self-quarantine and have restricted the movement of people from one place to another. Even locals who are returning from outside the state are being advised to stay back at the district headquarters here.
Barricades have been erected at several places to stop the entry and exit of people, while CBOs and NGOs are being engaged to control public movement in the towns.
On Monday, a mass ritual was performed in Kabu village, and the villagers have put themselves under strict restriction.
The Indian Army stationed here has identified quarantine facilities for its troops in Aalo, Bogdo, Kaying and Mechuka.
The district is under complete lockdown, barring the flow of essential commodities and medicines.
Police distribute rations, medicines
In West Kameng, the police, led by SP Raja Banthia, distributed dry rations, chocolates, medicines, etc, among the labourers in camps around Bomdila township. The labourers were also made aware of the importance of maintaining social distance to prevent the spread of Covid-19.
Taking serious note of people, especially youngsters, taking to the streets beyond the stipulated time – from 9 am to 12 noon, for shopping for essential commodities – the SP appealed to all to stay indoors and maintain social distancing to win the war against the pandemic. (DIPRO)