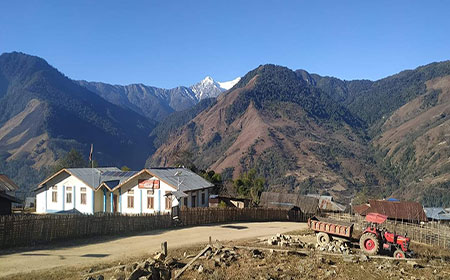 Staff Reporter
ITANAGAR, Mar 29: With the nationwide lockdown in place, a food crisis reportedly looms over Pidi and Monigong administrative circles of Shi-Yomi district.
Sources informed that regular rations had last been supplied in early March to both BPL and Annapurna card holders in Monigong. Now the 21-day nationwide lockdown has triggered the fear of food scarcity as the stocks are reportedly running out in both the remote circles.
"Whatever rations are transported by air are meant only for the government employees of both the circles," claimed a resident of Monigong.
"The last time rations were distributed to the BPL and Annapurna card holders was on 1 March in Monigong only, not in Pidi circle," he added.
However, when contacted, Assistant Sub-inspector of Food & Civil Supplies, Jawlai Singpho, who looks after the distribution, informed that the people there have enough stock for a couple of days more, and that air sortie was requested for as a preventive measure to tackle the possibility of food crisis ahead of the lockdown.
Singpho informed that one air sortie was successful. "However, due to inclement weather, it has been temporarily halted," he said.
The officer informed that the allocation for Monigong is 300 quintals, while for Pidi circle it is 200 quintals.
"As and when the weather is favourable, the air sortie will be resumed," he said.
The combined population of both the administrative circles is approximately 7000. It is learnt that food grain transporters are not being allowed to go to Monigong and Pidi as the department is yet to get official approval. Also, due to the unavailability of mobile network and internet facilities, it is difficult to contact the officers deployed in various areas there.
Speaker rushes to Shi-Yomi
Meanwhile, Legislative Assembly Speaker PD Sona, who represents the district, on Sunday morning rushed to his home district to assess the situation.
Sona, who had earlier directed the district administration to initiate all necessary measures against the Covid-19 pandemic, expressed deep concern over the reports of food scarcity in the two circles and said he would personally oversee the situation once he reaches there.
The speaker is also likely to review the Covid-19 preparedness with the district administration.