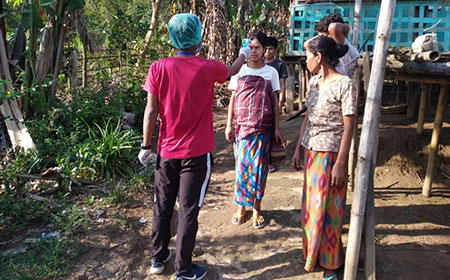 [ Pisi Zauing ]
MIAO, Apr 3: The local administration here in Changlang district has stepped up measures to tackle any Covid-19 outbreak, especially after the detection of a patient in the state.
The administration has prohibited human and traffic movement via the police check gates in Namchick, Magantong, Kovin and Balinong
for one week, starting Friday. Vehicles on emergency medical services and those transporting critically ill patients and essential commodities will only be allowed to ply and cross the check gates, it announced.
The people have been advised to stay indoors until the lockdown is withdrawn by the government. Stringent action will be initiated against violators.
Meanwhile, CHC MO, Dr HS Jongsam, along with EAC Apollo James Lungphi, OC Inspector Ege Ete and others visited all the villages under Songking and Sikao sub-centres in Namphai II area. The team interacted with the GBs and village elders, and educated them about Covid-19 its preventive measures.
Another team visited Pisi and other villages on the right bank of the Noa-Dehing river and carried out thorough screening of the villagers. Two individuals who had recently sneaked into Pisi village from Lohit district were tracked down by medical and police personnel.
Police patrolling has been intensified to ensure total lockdown, informed SDPO Tasi Darang.