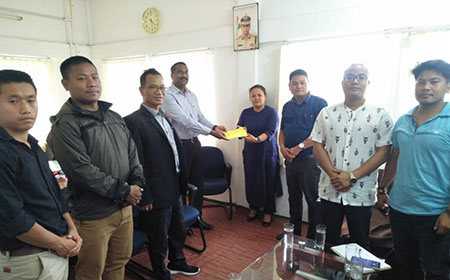 LONGDING, Apr 3: Officers of the Wancho community, along with civil society organizations and well-wishers, raised and donated Rs 6,56,000 to the Longding district administration to assist in its fight against Covid-19.
Longding Range Forest Officer Tinglem Rangkham handed over the cheque to DC Chesta Yadav on Friday.
Expressing appreciation for the contribution, the DC appealed to all to join hands in the fight against the pandemic.
RWD Minister Honchun Ngandam has donated three months' salary and allowances (Rs 5,76,000), while MLA Tanpho Wangnaw donated a month's salary (Rs 1,20,000) to help the administration.
Ngandam appealed to the people of the district not to panic but stay at home, not to believe in rumours, and follow the instructions and guidelines issued by the administration and the health department.
JMFC court donates to police
Meanwhile, the Longding Bar Association and the Longding court have raised and donated Rs 65,500 to the Arunachal Pradesh Police Welfare Fund, Longding.
Judicial Magistrate First Class (JMFC) Epi Kapu handed over the cheque to Longding SP BR Reddy here on Friday.
The JMFC expressed appreciation for the DC and the SP for "going beyond their call of duty and putting their all-out effort to control the spread of Covid-19 despite the shortage of staffs and resources."
She also hailed the hard work put in by the health workers, the police personnel, the general administration, the sanitation workers, and others. (DIPRO)