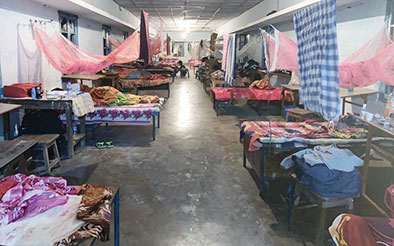 Staff Reporter
BANDERDEWA, May 4: Returnees who have arrived from outside the state and are currently housed in the quarantine centre at the police training centre (PTC) here have raised concern over the poor hygiene in the centre and sought the intervention of the authorities concerned.
As per reports and photographs received from within the quarantine centre, almost all the windowpanes are broken and everyone in the dormitory is forced to use the same bathroom due to erratic water supply. The rooms are also reportedly not being cleaned and the packaged food they receive is laid down on the floor for them to pick up on their own.
Speaking to this daily on condition of anonymity, a man, who has been put under quarantine very recently, informed that the there is "only one bathroom with proper water, and it is being used by all the occupants in the men's dormitory."
"There are no sweepers or cleaners. New people keep coming in and we have to share the same taps, washroom, and live in such close proximity. Our food is also kept outside on the floor, as if we were animals. They should at least have a decent behaviour towards the quarantined," he said.
However, the quarantined people have since managed to ask the server to arrange for a table to keep their food on instead of on the floor.
"We do not have a problem with the quality of food and we do not have any issues with being quarantined. We have a problem with the inhumane behaviour and the unhygienic conditions," the man this daily spoke to said.
He also claimed that more people are being brought in from Delhi and Jaipur – which are both red zones – and they may have to share the same space.
"What if an asymptomatic person arrives from a red-zone area and spreads the virus to us? When we return to our families we may spread the virus further. Arrangements for social distancing within the quarantine centre should have been adequately made. We were not even instructed to get cleaned up before entering the dormitory with others," he said.
"Many people under quarantine are yet to be tested," he added.
On whether they have placed their concerns with the authorities there, he said, "We cannot speak to the officials about the poor living conditions because we only see the food server coming in. No one enters our rooms; nobody comes to check in on us," he said.
"Several students are also quarantined at the PTC and have expressed similar views," he added.
Notably, the health minister and the home minister had recently visited the PTC after it had been identified as a quarantine centre.
The health secretary could not be reached for a comment on the claims of the occupants there.