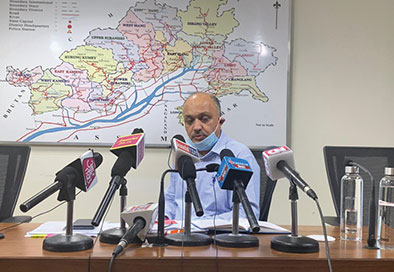 Staff Reporter
ITANAGAR, May 4: Chief Secretary Naresh Kumar on Monday informed that the state government is waiting for response from the Ramakrishna Mission (RKM) authorities to the proposal to convert RKM Hospital (RKMH) here into a 200-bedded government-run hospital.
"RKMH is well-established and knows the situation better. We have explored the possibility of converting RKMH into a 200-bedded hospital and running it in public-private partnership. We are yet to get response from their side," the CS said.
In the 2019-20 budget, the Arunachal government proposed to construct a 200-bedded hospital in Itanagar, with special emphasis on maternal and child healthcare and ophthalmology.
It was also announced that the hospital would function as an eye centre of TRIHMS. The government earmarked Rs 10 crore initially for the project to start.
Chief Minister Pema Khandu recently announced that the government is now exploring the option of converting RKMH into a 200-bedded hospital, claiming that the original project mentioned in the budget remained a non-starter due to paucity of land.