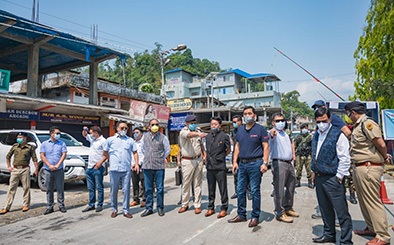 BHALUKPUNG, May 12: A high-level delegation, comprising elected representatives of the Kameng belt and led by WRD Minister Mama Natung, on Tuesday visited the check gate and the quarantine centres here in West Kameng district to gain firsthand knowledge of the ground situation.
The delegation also held a review meeting with the DCs and other officers of East Kameng, West Kameng and Tawang districts.
Later, briefing the press, Natung, who has been made in-charge of the Bhalukpong check gate, said that the authorities are fully prepared to deal with any eventuality.
"We visited the quarantine centres and the check gate. So far the arrangement is pretty good," he said.
The minister praised the people of Bhalukpong, in particular the local Aka community, for their role in the battle against Covid-19.
"There is proper coordination between the authorities and the public, which has made things easier. The police, the health workers and the magistrates posted at the check gate are all performing their duties efficiently," said Natung.
He informed that vehicles carrying essential commodities are being allowed to enter via the Bhalukpong check gate while strictly following the guidelines issued by the MHA.
"We held a review meeting where various issues were discussed. Some concern has been raised by the officials and community-based organizations. We also took suggestions from the DCs. The review meeting will help to further improve things in Bhalukpong," Natung said.
The minister informed that all the samples collected at the quarantine centres are being sent to Tezpur, Assam, for tests.
Local MLA Kumsi Sidisow informed that CBOs and NGOs have raised some concern and submitted a memorandum to the high-level delegation. He urged the government to look into the concerns.
Sidisow informed that needy people of the area are being provided with essential commodities during the lockdown period with the help of well-wishers of the area.
MLAs Hayeng Mangfi, Tapuk Taku, Goruk Pordung and Dorjee Wangdi Karma were part of the delegation.