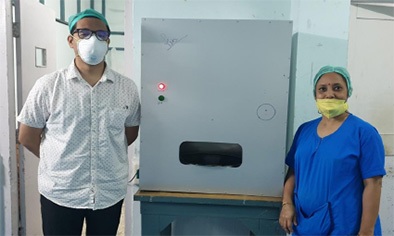 Staff Reporter
ITANAGAR, May 13: An auto hand sanitizer dispenser developed by Nich Raja, an AE in the state's power department and Indian Medical Association- Arunachal Pradesh (IMA-AP) has been installed at the RK Mission Hospital on Wednesday.
"The machine has been set for three seconds of dispensing since it is the first model. We may need to reduce it to 1.5 seconds so that the sanitizer does not go to waste," IMA-AP president Dr Lobsang Tsetim said.
He also informed that the IMA intends on donating similar machines to the Tomo Riba Institute of Health and Medical Sciences and to the Directorate of Health Services once the required parts are acquired.