MIAO, May 14: An interfaith prayer meet was held at Christ, the Light Minor Seminary here in Changlang district on Thursday "to help humanity overcome the Covid-19 pandemic."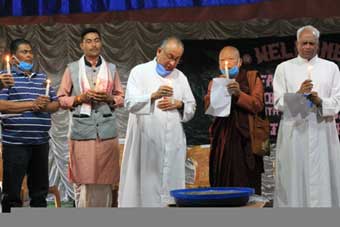 Miao diocese bishop George Pallipparambil organized the prayer meet, which saw the participation of the heads of various religious communities, including leaders from the Catholic and other denominational churches.
Miao Buddhist monastery's head monk, Narindra Bhikku, said "prayer is the only weapon to fight Covid-19."
Among others, pandit Ravishankar Pandey of the Shiv Mandir, Stephen Yobin from the Church of Christ, Miao Town Baptist Church evangelist Chomtang Chamtang, and Catholic fathers David and John Doley attended the meet.
Similar prayer events were held across Arunachal and other NE states, at the behest of Pope Francis.