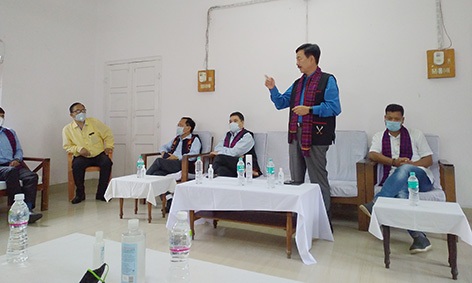 [ Pisi Zauing ]
MIAO, Jun 24: Health Minister Alo Libang said that 25 government health centres in the state will be converted to full-fledged and well-equipped hospitals.
Libang, accompanied by MP Tapir Gao on Wednesday visited Miao in Changlang district to take stock of the Covid-19 situation.
Changlang district currently has the highest number of Covid-19 patients in the state.
The health minister stressed the need for modernizing the healthcare system in the state.
"We always talk of good education, science, employment etc., but Covid- 19 has taught us a great lesson. A state can progress only when there is good health care system," Libang said.
The health minister also hinted at improving the Miao community health centre soon.
"The state government under the leadership of Chief Minister Pema Khandu is doing everything possible for improvement of our health infrastructure," he said.
While MP Tapir Gao attributed the outbreak of the virus in Arunachal to the returnees, he also appreciated the untiring efforts of the frontline Covid-19 warriors, adding: "We have to learn to live with the virus."
He said sanitization, physical distancing, wearing facemasks and hand gloves are the only mantra to win the battle against the pandemic.
Local MLA and Minister Kamlung Mossang sought special fund allocation to fight the pandemic as Miao, Bordumsa and Diyun circles are the worst Corona affected.
Stating that the people of the area are compelled to go to Assam for better healthcare services, Mossang suggested for upgrading the Miao CHC.
Bordumsa MLA Shomlung Mossang reiterated his demand for a Bailey bridge over the Noa Dehing River and sought fund from the MP for flood control works.
Local leaders, including district BJP president Khinranong Tikhak also demanded special fund for the Covid-19-hit Miao, Bordumsa and Diyun circles of Changlang district.
The health minister was also requested to outsource doctors and other health staffs from corona free PHC/ CHCs and send them to these affected circles.
Miao Singpho Ramma Hpung, a local youth organization in separate memorandums to the health minister and MP, demanded immediate renovation of the health sub-centre at Lewang village, posting of health staffs and sanitization facilities at the locally erected barricade at Khagam Mossang.
In their memorandum to the MP, the youths demanded fund for construction of a youth club at Miao town.
Libang and Gao were accompanied by Deputy Speaker Tesam Pongte and Changlang Deputy Commissioner Dr Devansh Yadav.