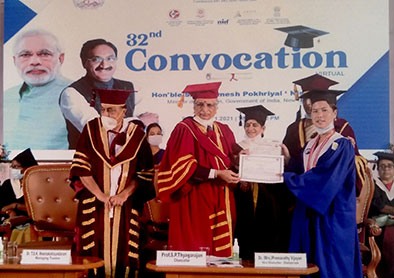 TEZU, 23 Jan: Lohit Youth Library Movement activist Anjangmai Mam has won the OP Narula gold medal by securing first rank with distinction in BSc (rural development and sociology) from the Avinashilingam Institute for Home Science and Higher Education for Women, Coimbatore, Tamil Nadu.
She received the award at the 32nd convocation ceremony of the Avinashilingam Institute on 22 January.
An alumnus of government schools in Pukhuri and Tezu and the KGBV, Wakro, and daughter of neo-literate Mishmi farmer parents, she is currently continuing
her MSc in extension education in rural development at the university.
In 2014, she was part of the three-member team from Bamboosa Library at the AWIC International Conference of Children's Libraries in New Delhi, and won wide appreciation from authors and guests from across the world.
Dr S Tawsik, a senior medical professional and an elder of the Mishmi community, expressed great happiness that the Lohit Youth Library Movement has been mentoring many first-generation Mishmi girls to become successful in their educational pursuits.
Former faculty member of Tezu-based IGG College, Dr Rajendra Babu said: "This is a proud moment for all of us teachers in Arunachal."