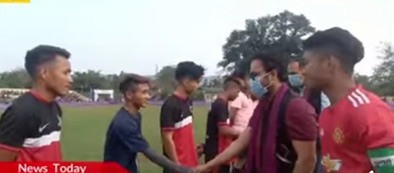 [ Pisi Zauing ]
BORDUMSA, 15 Mar: The selection team of Sudeva Delhi FC is in Bordumsa in Changlang district, and the trial for selection of two young players to be part of Delhi FC is underway, informed District Sports Officer Noah Mongku.
Following the three-day trial here, the selectors will move to Innao in Diyun circle on Tuesday to continue their search for hidden soccer talents.
Meanwhile, the 3rd edition of the Changlang District Super Cup Football Tournament got underway at the playground of the government higher secondary school in Kharsang.
Miao ADC Sunny K Singh kicked off the tournament.
In the inaugural match, Kharsang defeated Namphainong by 4-0 goals. Limsham Mossang, who scored a hat-trick, was the point of attraction.