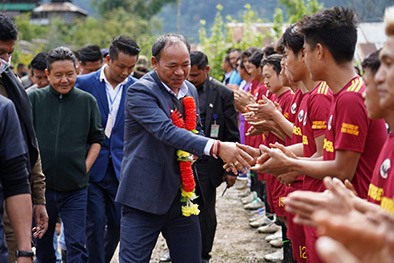 TATO, 22 Mar: Sports Minister Mama Natung said that the state's youths are talented and with proper guidance and encouragement can excel in any sport.
He was speaking during the closing ceremony of the first Pasang Wangchuk Sona Football & Volleyball Tournament, which was held at the general ground here in Shi-Yomi district on Monday.
Natung appealed to the youths to participate in every sport and game. He urged them to adopt healthy practices and stay away from drugs and alcohol.
Natung, who is also the minister for the water resource department (WRD) and the environment & forests department, assured to establish proper office buildings for the WRD department and the forest division here within six months.
He also urged the panchayat leaders to spearhead the 'air gun surrender campaign' in the interest of future generations.
Legislative Assembly Speaker PD Sona, who was also present, said, "The district has a lot of talented youths but they have remained unexposed due to poor infrastructure like road and telecom connectivity."
The final match was played between Ruto Aao SC and Tagur Aao FC, wherein the latter defeated the former by 5-2 goals.
Organized by the All Shi-Yomi District Students' Union, the tournament had been kicked off by PHED Minister Wangki Lowang. (Speaker's PR Cell)