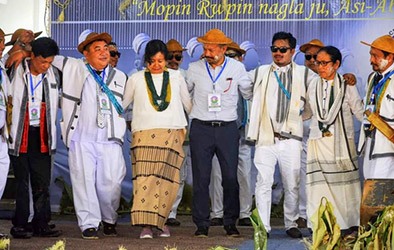 PASIGHAT, 6 Apr: Mopin festival of the Galo community was celebrated with traditional fervor at the GTC Siying Gangging compound here in East Siang district on Monday last.
Greeting the people on the occasion, Pasighat East MLA and advisor to minister for UD and Municipality, Kaling Moyong said, "Our age old festivals celebrated since time immemorial reflect our rich repository of traditions, culture and mythology that need to be passed down to the future generations.'
Moyong urged the younger generation to retain the age-old tradition and culture and practices.
The MLA further assured to construct a common community festival celebration hall soon at the Giidi Notko  for celebration of all tribal festivals at Pasighat.
Adi Baane Kebang general secretary Okom Yosung and PMC Chief Councilor Okiam Borang also spoke on the occasion. (DIPRO)