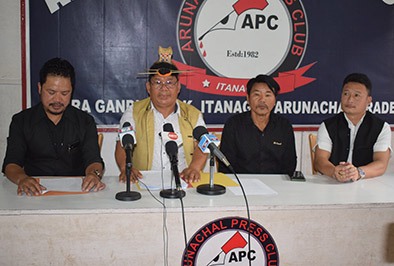 Staff Reporter
ITANAGAR, Apr 7: The Jollang Panchayat's Land Affected Forum (JPLAF), while welcoming the proposed 14-km state road construction from Pappu-Nallah via Jollang to Ganga Market, has also sought that the state government compensate the affected people of the area.
Failing to compensate the affected people, the JPLAF said that it would call for a series of democratic movements in the state capital and that it is "even ready to fight legally."
Addressing a press conference at the Press Club on Wednesday, JPLAF chairman Tarh Miri said that the people of six villages under Jollang Panchayat "were never informed by the concerned department on the expansion of village road to 24m from the Right-of-Way (RoW)."
He said that "the notification issued by the Department of Urban Development in March 2006 was never made public and the notification was not provided to the public leaders of the village."
The directorate of town planning in a notification issued in pursuance to the notification issued by the Department of Urban Development on 13 March, 2006 had notified that the minimum width of the road from RoW of road connecting Pappu-Nallah via Jollang to Ganga Market be of 24m.
"We are just claiming compensation for the houses, walls, shops, etc which will be demolished by the district administration. Everyone has invested their hard-earned money to build it all. Therefore, we request the administration not to dismantle the structures further," he said.
The forum has requested the concerned state highway department to stop demolishing the structures till the road construction starts.
"Let the owners demolish the structure on their own and let the department provide the labour charge for the demolition," the forum further demanded.
Miri also said that he was issued a show-cause notice regarding the same matter by Additional District Magistrate (ADM) Talo Poton earlier, wherein, the ADM has made it clear that no compensation will be provided to the people.
"The ADM has outright refused any compensation for the affected people and instead suggested taking up the matter legally," Miri said, adding that he was summoned on the ground of 'encroachment of RoW of public road.'
The six villages under Jollang Panchayat were notified as a village on 20 February, 1978 under the Assam Forest Regulation Act, 1891. The forum has also submitted a memorandum to Chief Secretary Naresh Kumar on 5 April, demanding the same.