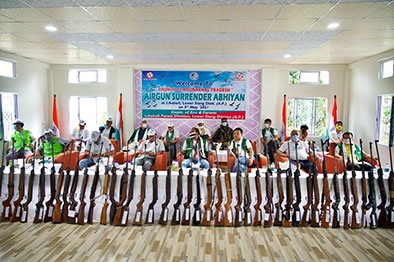 LIKABALI, 6 May: Forty-two airguns were surrendered by the people of Likabali constituency as part of the airgun surrender campaign of the environment & forests department of Lower Siang district at the circuit house near here on Wednesday.
Addressing the gathering, Environment & Forests Minister Mama Natung commended the positive response from the public towards the campaign, and also for their understanding the importance of wildlife. He appealed to the gathering to create awareness among people who are unaware of the importance of flora and fauna, and also the Covid-19 pandemic.
The minister urged the people to shun the culture of mass killing of fishes and other aquatic life through generators.
"It can be understood why our forefathers hunted in the early days. Why should we kill wildlife for consumption in this era when we have sufficient alternatives for it in the market?" he said, appealing to the people of the state to also surrender handmade guns.
Earlier, Natung, during his visit to the Malinithan archaeological site, inaugurated a shopping complex and a parking zone at the archaeological site. He appealed to the public of the area to maintain cleanliness and protect the historical site.
Natung also informed that two security guards are being deployed at the archaeological site, so that the site is protected.
Further, Natung and MLA Kumsi Sidisow assured of financial assistance to the Malinithan Vikash Parishad for the maintenance of the archaeological site.
Encouraging the public to join the airgun surrender campaign, Sidisow said, "It is our responsibility to preserve and protect wildlife. We still have much time to stop hunting by living with nature and joining the campaign."
Also supporting the campaign, local MLA Kardo Nyigyor assured of all help from his end to persuade the public of his constituency to avoid hunting animal and surrender their airguns.
He said it was the first airgun surrender programme in the district, "and it has witnessed huge support from the public." He also thanked the minister for setting up a permanent WRD office in the district headquarters.
Responding to queries on whether the campaign involves government funds, Natung said that all funds used for the campaign are being donated by a few likeminded people and has no connection with the state government exchequer. "There is no such separate fund allotted for the campaign," he said.
Natung said that airgun surrender programmes are being organized by the environment & forests department in the districts and promotional items like caps, t-shirts, etc, are sponsored by individuals.
He informed that those who wish to surrender their airguns may surrender them to their respective district range forest officers.
Among others, Lower Siang Deputy Commissioner AK Singh, PCCF RK Singh and heads of departments were present during the programme.