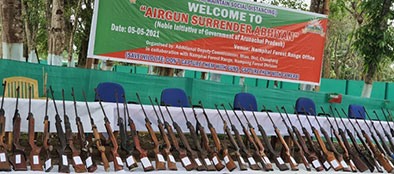 [ Pisi Zauing ]
MIAO, 6 May: Fifty people from all seven villages in Namphai circle of Changlang district surrendered their airguns on Wednesday, in the presence of Miao ADC Sunny K Singh, Miao ZPM Ashamto Tikhak, Namphai ZPM Khumko Mossang, SDPO DSP Zirdo, GBs, forest officials, and members of the Miao Singpho Ramma Hpung.
In view of the surge in Covid-19 positive cases, only a limited number of people were invited to the airgun surrender programme, organized by Namphai RFO Lichi Karlo at his office premises in Namphai-I.
Those who surrendered their airguns were given Rs 2,000 each, along with a 'surrender certificate' and nahar tree saplings. All seven GBs of Namphai circle were also given Rs 2,500 each as an encouragement.
The ADC said that "the campaign should emerge as a people's movement to ensure stupendous success of the much significant abhiyan." He appealed to all community-based organizations to "join hands and start playing an active role by brainstorming on the practice of hunting prevalent in the area."
He warned of stringent action under various provisions of the forest and wildlife laws against anyone found guilty of hunting birds and other wildlife within Miao subdivision.
Replying to a query from this correspondent, the ADC assured to "give special preference to those who surrender airguns at the time of awarding any benefits under the forest department."
The airgun surrender campaign is an initiative of the state government to dissuade people from hunting, and to create awareness on the ill-effects of killing wildlife.