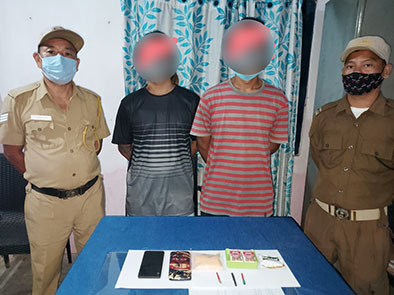 KHONSA, 7 May: The anti-drugs squad (ADS) of the Tirap police apprehended two drug peddlers and seized suspected brown sugar from their possession during a               naka checking at the Sumsipathar-Pansumthong village area on Thursday.
The naka was set up based on specific information about the movement of drug peddlers via the under-construction road bypassing the check gate.
The team, led by Borduria Police Station OC SI Nokpam Lowang, intercepted the two, who were on a motorcycle, at the naka and seized the drugs from them.
A case has been registered under the NDPS Act against the duo, identified as Wangwi and Monglat.
The ADS has seized a total of 52.5 grams of suspected brown sugar and 604 grams of suspected opium from seven drug peddlers from different parts of the district within two weeks, and cases have been registered against the peddlers under various sections of the NDPS Act, informed Tirap SP Kardak Riba. (DIPRO)