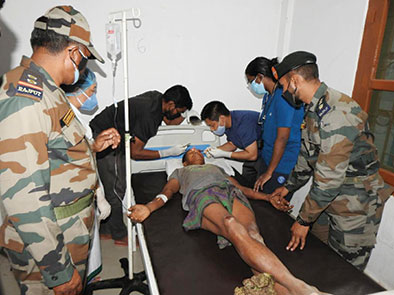 [ Pisi Zauing ]
M'PEN, 7 May: A normal routine day for an Indian Army recce team became adventurous when they spotted a vehicle that had met with a disastrous accident at M'Pen, 11 kms from Miao, along the Miao-Vijaynagar (MV) road on Thursday afternoon.
The recce team rescued 11 injured persons. The vehicle, a Bolero Pickup, that had been engaged to carry private workers engaged in the construction of the MV road met with the accident due to rash driving.
Fortunately, within a few minutes, the army vehicles spotted them, identified the critical victims of the accident, and rushed them to the community health centre in Miao.
MO Dr H Jongsam along with an army doctor sutured the wounds of the injured. The serious cases were immediately referred  to Assam for better healthcare.
Three lives were saved, and those who sustained minor injuries were given first aid. However, one individual succumbed to grievous injuries.
Meanwhile, Changlang DC Dr Devansh Yadav said, "The relationship between civilians and military is on strong footing and such kind of incidents where army comes to rescue of local citizens greatly helps in building confidence in the minds and hearts of locals."
Miao ADC Sunny K Singh also extended gratitude to the Indian Army for their immediate response.
CHC MO Dr H Jongsam said, "It was a noble gesture on the part of the Rajput Regiment to care and then bring the victims for medical care at CHC Miao. If not for them, they would have been still in that area, which is remote and has no telephone connectivity."
"The army doctor and her team readily assisted us in managing the emergency," Dr Jongsam said.