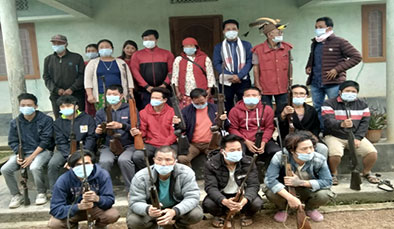 ZIRO, 7 May: Lower Subansiri DC Somcha Lowang has said that she will be ordering a blanket ban on the sale of airgun pellets in the district.
The DC said this during a meeting to work out modalities to increase the number of airgun surrenders in the district, and to create awareness on the importance of saving wildlife.
Seventy-five airguns have so far been surrendered to the Hapoli forest division, which includes Kamle and Lower Subansiri districts. Out of these, 67 are from Yachuli, four from Ziro, and four from Kamle.
The DC called for unified efforts by all the HoDs in making the gun surrender campaign a success.
"The HoDs owning airguns should begin by surrendering them to motivate others. This effort towards conservation of the wildlife is commendable and should be endorsed by all," Lowang said.
She also directed the DFO to conduct regular raids in the local markets to prevent the sale of wild meat, and to identify the sellers and book them under the provisions of the Wildlife Protection Act, 1972.
She also called for involving the panchayat members to make the campaign "a people's campaign."
DFO Abhinav Kumar said: "Although Arunachal Pradesh is rich in flora and fauna, rampant hunting and deforestation could lead to an ecological imbalance in future. This initiative by Environment & Forests Minister Mama Natung is highly commendable and the need of the hour."
He informed that each ZPM has been asked to ensure that at least 10 people surrender their airguns in their respective segments.
DMO Dr Tage Kanno and DAO Tasso Butung emphasized the need for carrying out intensified IEC activities with regard to airgun surrender.
RFO Talo Dibo also spoke. (DIPRO)