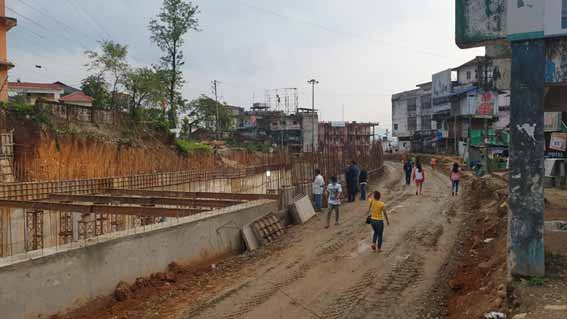 ITANAGAR, 13 May: The service lane roads at the Bank Tinali underpass here will be completed by the end of this month.
The GSB work has started on the service lane roads and work is on in full swing. The project manager of TK Engineering, Pranjal Hatimota, said that work is being continued at the Bank Tinali underpass and two bridges in Chandranagar even during the lockdown.
"Earlier, our work was affected due to the labourer issue. But now work has picked up pace as labourers have started to return. We got required permission from the district administration. They are actively cooperating with us," said the project manager.
He also informed that work on the second bridge over the Senki river in Chandranagar has started.
"The work on the foundation, including the middle pier, has started. Before the monsoon arrives, we want to raise the height, so that later, even if it rains, we can continue the work," added the project manager.
Authority engineer BK Singh, who inspected the ongoing work, informed the media about the status of the second bridge over the Yagamso river in Chandranagar.
"Slab work has been completed and the curing process is going on. Now only cross barriers and pedestrian footpaths are to be completed. After that, approach road will be taken care of," said Singh.