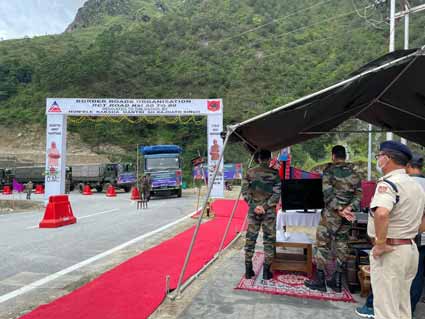 BOMDILA, 17 Jun: Defence Minister Rajnath Singh inaugurated the Balipara-Chardwar-Tawang (BCT) road (km 50-99), constructed by the Border Roads Organization (BRO) under Project Vartak, through the virtual mode on Thursday.
Union MoS for Sports Kiren Rijiju, MoS for DoNER Dr Jitendra Singh, Chief of Defence Staff Bipin Rawat, Arunachal Chief Minister Pema Khandu, Assam Chief Minister Himanta Biswa Sarma, Ladakh MP Jamyang Tsering Namgyal, Chief Secretary Naresh Kumar, BRO DG Lt Gen Rajeev Chaudhary, and others attended the inauguration through the virtual mode.
The BCT road was initially developed by the BRO to provide connectivity to West Kameng and Tawang districts. The road was originally developed as a Class-9 road and work was completed by the late sixties.
After the completion of the Orang-Kalaktang-Shergaon-Rupa-Tenga road, which provides alternative connectivity to West Kameng and Tawang, the work on the BCT road had commenced in 2016 under Project Vartak.
The defence minister lauded the BRO for its immense contribution in the infrastructure development in the border areas of the country since 1960.
Highlighting the unique geographical features of the Northeast, which is connected with five other neighbouring countries, he said that development of roads in the Northeast has not only increased trade but also plays a crucial role from the defence perspective.
"Construction of the Atal tunnel in Rohtang, the Sela Pass tunnel and others constructed by the BRO is an example of international level of work by the BRO in the overall process of nation-building. It also shows the self-sustainability of the nation in the infrastructural growth of the country," he added.
Rijiju and Khandu also lauded the BRO for completing the BCT road project (km 50-99).
The Assam CM expressed gratitude to Singh and Prime Minister Narendra Modi "for their concern towards the Northeast, and for creating the Look East Policy for the development of the region." (DIPRO)