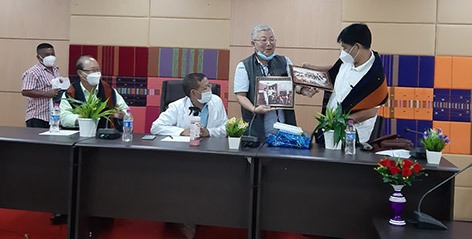 NAHARLAGUN, 2 Jul: Two senior doctors, RD Khrime and Tayi Taloh, were given a warm farewell on their retirement from service in a function at the conference hall of the DHS here on Friday.
Dr Khrime, who had joined the then general hospital in Naharlagun as ENT specialist in 1988, retired in May this year as director of medical education (DME). Prior to his promotion to the post of DME in 2017, he had served as the CMS at the Arunachal State Hospital.
Dr Taloh had joined government service at the then general hospital in Naharlagun in 1987. Thereafter, he served in various places, like Daporijo, Pasighat, Mebo and Ying-kiong.
He was then posted as DMO of Dibang Valley and Anjaw. He retired as joint DHS (estt) last month.
Health Services Director Dr M Lego expressed appreciation for the invaluable contributions made by the two doctors "in the field of health administrative reforms."
TRIHMS Director Dr M Jini recalled the times way back in the '90s when he and Dr Khrime had fought for the creation of the APHS cadre along with other doctors of the state, and expressed appreciation for his valuable contribution.
The farewell function was attended by senior doctors and staff of the directorate.
Earlier, MTS Hage Yakha was also accorded a warm send-off on her retirement from service by the health directorate.