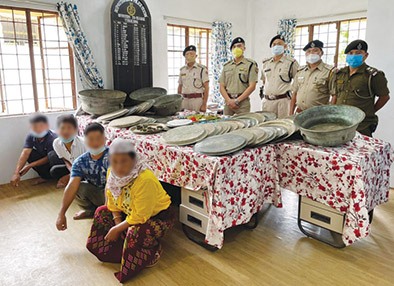 Staff Reporter
ITANAGAR, 12 Jul: The Yingkiong police cracked a trespass and theft case, which had occurred in Adi Pasi village in Upper Siang district, by arresting four persons last Saturday.
The alleged accused have been identified as Vijay Tamin alias Rokom (29), Kangkinam Tate alias Teyang (26), Boken Tatan (30), and Yamang Rina (53).
In a press release, Upper Siang SP Jummar Basar informed that on 1 July, a written FIR was received at the Mariyang police station, informing about commission of criminal trespass and theft by unknown miscreants who burgled into and stole from six granaries in Adi Pasi village in Mariyang ADC headquarters.
The SP informed that the stolen articles mainly comprised traditional beads, brass ornaments and such, with a value of approximately Rs 11.66 lakhs, according to the FIR.
Basar said that a special team comprising Yingkiong PS OC Inspector T Tamut, Mariyang PS OC SI D Panggam, SI K Dameng of the Mariyang PS, and Head Constables G Mongku and Mithilesh Kumar was immediately constituted after registering the case, and investigation was launched.
"After nine days of constant electronic surveillance and thorough analysis of all available evidences, the miscreants were finally arrested on 10 July night from various places, observing all legal formalities, and all the stolen articles were recovered on 11 July and the vehicle (a Maruti 800 car) used during commission of the offence has been seized," the SP said.
He further informed that additional articles, also suspected to be stolen properties "worth a tangible amount of money," have been recovered from the possession of the gang.
"Efforts are being made to establish the source of these articles, to trace their owners and other case connections in this regard," he added.
The SP thanked the Itanagar call monitoring control unit, particularly Inspectors BB Gohain and R Chetry and SI Maharaj, for their assistance in cracking the case.