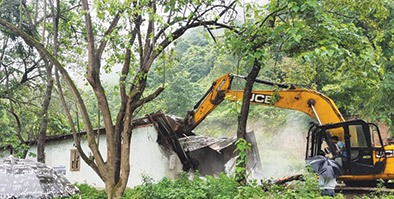 ZIRO, 13 Jul: An eviction drive was carried out along a considerable stretch of the Joram-Koloriang (JK) highway in Lower Subansiri district on Tuesday to clear all hindrances to road construction under Packages 1 and 2.
The eviction drive was carried out under the supervision of the district administration, following the unyielding attitude of the locals in spite of having been told repeatedly to clear the structures along the highway.
Highlighting the progress of work on the Trans-Arunachal Highway (TAH) falling in Lower Subansiri district, Deputy Commissioner Somcha Lowang informed that "a few hindrances under Package 2 in Tajgi area whose eviction/dismantling were pending since two-three years have been cleared since May 2021."
She said that currently 99 percent of the hindrances along Package 2 in Tajgi area have been cleared and 99 percent of the compensation payments made.
Terming road connectivity "a catalyst to a vibrant economy," the DC said that the ongoing Covid-19 pandemic has not slowed the TAH construction works in the district.
She informed that the pegging process in Yazali and Yachuli areas has been completed and the eviction process is also expected to be completed soon in Yachuli area under the supervision of Yachuli ADC Toko Babu and Yazali CO Tashi Thongdok.
The eviction drive was monitored by the DC along with ADC Toko Babu, EAC (Highways) Bamin Tarang and DLRSO Chakpu Raju. (DIPRO)