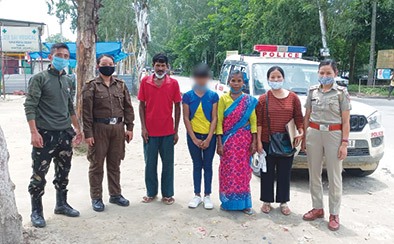 ZIRO, 21 Jul: A 16-year-old girl was reunited with her mother after over a year through joint efforts of the Lower Subansiri police, Child Welfare Committee, and the Integrated Child Development Services (ICDS) on Wednesday.
DySP Tasi Darang informed that the minor was found roaming around at Pai Gate area by the police patrolling team here on 10 May, 2020 and was handed over to the child welfare committee, from where she was taken to the child care institute on the advice of Ziro ICDS Deputy Director Dani Yami.
As the child was unable to inform about her address properly, the child welfare committee and special juvenile police unit, headed by DySP Darang and SI Pansam Mirip put their best efforts to locate the girl's parents.
Later, the girl's parents were located through the child welfare committee of Sonitpur, Assam.
A programme was set up to reunite the minor with her parents on advice and supervision of Lower Subansiri Superintendent of Police Harsh Indora and the ICDS deputy director.
The team that reunited the child with her parents included the Lower Subansiri police, led by Ziro Women Police Station Officer-In-Charge SI Pansam Mirip, Head Constable Robo Takhe, constables Ninjin Kimsing and Monali Khomrang, joined by child welfare committee members Hibu Usha and Tilling Yam.