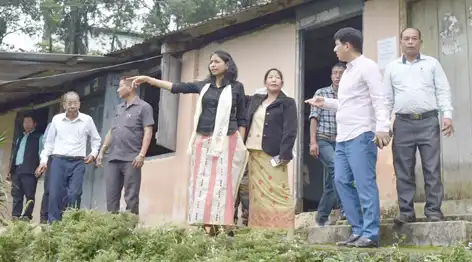 KHONSA, 19 May: Education Commissioner Padmini Singla on Thursday inspected the DIET, the government higher secondary school, the government secondary school, Pinewood, the government town upper primary school, and the Ramakrishna Sarada Mission School here in Tirap district.
At the DIET, she interacted with DIET Principal Poro Rangyang, faculty members, and students.
She also interacted with the principal of GHSS Khonsa, Nokdon Chimyang and the teaching staff, and took stock of the girls' hostel and the classrooms which were recently damaged in a thunderstorm.
Singla later interacted with the teaching staffs and students of GSS Pinewood and RK Sarada Mission School.
The education commissioner was accompanied by Tirap DC Taro Mize, DDSE Hortum Loyi, DAEO Kutung Hangphuk, ISSE DPC Tehat Tangjang, BEO (in-charge) Nawang Lowang Medam, BRC-cum-CRCC Wangthom Lowang, and others. (DIPRO)