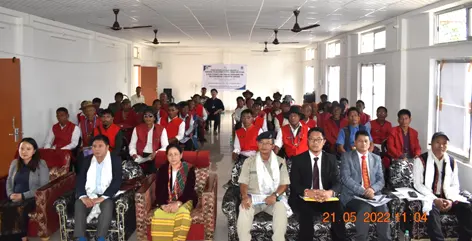 LONGDING, 21 May: The Arunachal Pradesh State Legal Services Authority (APSLSA) organised a 'legal-cum-training programme' for the gaon burahs and gaon buris (GB) of Longding district at the circuit house here on Saturday.
The programme, organised in collaboration with the union justice department, saw the participation of over 40 GBs from five circles of the district, besides panchayati raj members, Wancho chieftains, members of the Wancho Council, and other stakeholders.
The GBs were apprised of various important topics relevant to their role as the heads of the traditional village councils, such as the Assam Frontier Regulation of 1945; powers, functions, etiquettes and protocols; basics of criminal and civil laws, etc.
The GBs were also familiarised with topics of public interest, including basic criminal laws, the Protection of Women against Domestic Violence Act, 2005, the Victim Compensation Scheme, etc, by advocates Wangtan Wangpan and Honlem Khangham.
A session on the traditional village council system of the Wanchos, ie, the chieftain system, was conducted by District Adult Education Officer Dr Manlong. The participants were also introduced to the 'Each one, teach ten' initiative, under which each of the trained GBs is expected to educate 10 ordinary members of the community regarding free legal aid and assistance, and associated schemes and Acts that they have at their disposal.
"The initiative is expected to sensitise an additional 5,000 (500 GBs x 10 rural residents) through the trained GBs," the APSLSA informed in a release.
GB Nokkai Wangsa also spoke.
Also present were senior officers of various government departments, besides APSLSA Member Secretary Jaweplu Chai, DC Bani Lego, Longding JMFC Rido Pina, and Longding DSP R Khomrang.