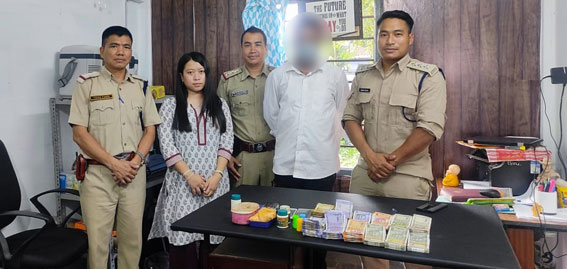 NAMSAI, 26 May: The anti-drug squad (ADS) of the police here on Thursday arrested one Pranab Rajkhowa, alias Kalapeti (49), for selling drugs.
The arrest was made during a raid conducted by the ADS, led by DSP (P) Kengo Dirchi and including Inspector Tabin Padung and SI T Ponglaham, in the house of Rajkhowa, in the presence of Executive Magistrate Mihin Anku and independent witnesses.
The ADS team recovered one medium-sized plastic container containing white and orange coloured powdery substance, suspected to be contraband, weighing approximately 125 grams, and cash amount of Rs 3,00,000, suspected to be sales proceeds, from the peddler's possession.
"The accused has been formally arrested and a case under Section 21 (b)/25/27 (A) NDPS Act has been registered and Inspector T Padung has been endorsed for investigation," informed SP DW Thongon.
Reportedly, Rajkhowa had earlier been arrested on 13 June last year by the Namsai police in connection with another NDPS case.