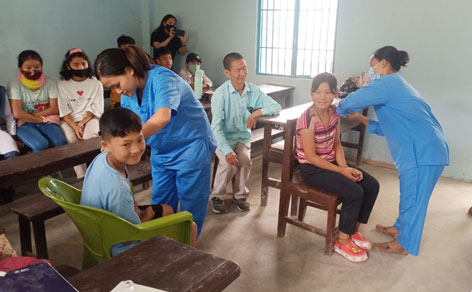 RAGA, 1 Jun:  Har Ghar Dastak and Har School Dastak, the COVID-19 vaccination programme for 12-17 years children was launched in Kamle district on Wednesday at Hutho Middle School, Yada, Raga run by Arunachal Vikash Parishad.
15 children, of whom 11 were girls, got their first dose of COBEVAX COVID-19 vaccine in the school.
The event was organized by the District Health Society, Kamle.
Encouraging all the eligible children of the school, DC Adong Pertin told them to avail this opportunity, as the government is bearing all the cost. He also shared the harrowing experiences of the lockdowns and requested all to get the vaccine immediately as the COVID virus do not discriminate on the basis of age, sex and religion.
DRCHO Dr. Kapu Sopin explained in detail about the Har Ghar Dastak and Har School Dastak to all the participants.