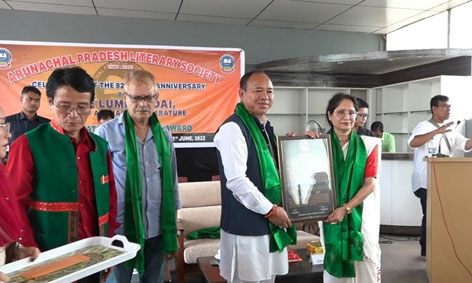 Lummer Dai Literary Award given to noted poet and writer Ajanta
ITANAGAR, 1 Jun: Forest, environment and climate change minister Mama Natung presented the Luminous Lummer Dai Literary Award, 2022 to noted poet and writer Ajanta here on Wednesday.
The award carries a citation, books, memento and Rs. 10,000.
The function was organized coinciding with the celebration of the 82nd birth anniversary of noted litterateur Lummer Dai by Arunachal Pradesh Literary Society (APLS).
Speaking on the occasion, Natung lauded the activities undertaken by APLS led by its president Yeshe Dorjee Thongchi to create a conducive literary atmosphere for young and budding writers.
He was all praises for Thongchi, who also is an eminent writer of the state, for spotting the writers and poets from different districts of the state.
Natung encouraged APLS to continue the legacy of Lummer Dai for creating social consciousness and augmenting the literary atmosphere in the state.
He said that Chief Minister Pema Khandu and Team Arunachal will give appropriate patronage to APLS for its yeoman services.
The minister called for promotion, preservation and documentation of the state's rich cultural heritage and languages. He said that the state government is always ready to extend all possible support and cooperation.
In her brief speech, Ajanta exhorted the young members to continue the legacy of Lummer Dai and APLS.
Sahitya Akademi Awardee Jnan Pujari recited his self-composed poem 'Bandhutwar Kabita.'
The function was presided over by APLS executive president Batem Pertin in the absence of Thongchi, who is currently in Assam's Mangaldoi district to receive the Lummer Dai Sahitya Bota conferred by Asom Sahitya Sabha.
Pertin briefed about the life story of Dai and his contributions in the arena of literature and journalism.
Earlier, Yater Nyokir and senior journalist Ranju Dodum also highlighted the contribution of Dai in the field of literature.
APLS general secretary Mukul Pathak also spoke.
APLS advisor Tokong Pertin, executive members Henker Rokam Bado, Nani Kojin, R N Koley were present on the occasion.
Earlier, Natung and all others present on the occasion paid floral tributes to the portrait of Dai.