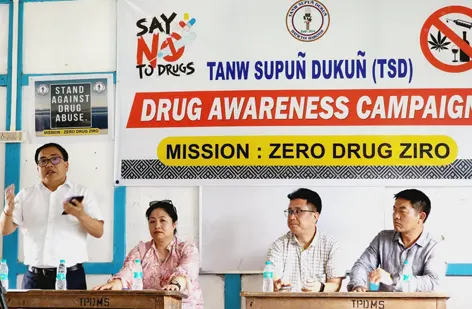 ZIRO, 5 Jun: The Tanw Supun Dukun (TSD) launched an awareness campaign on 'Zero-drug Ziro' for all panchayat segments of the district on Sunday.
On Sunday itself, an awareness programme was conducted at the government middle school in Tanyang Putu for the Diibo panchayat segment.
During the programme, GTGH SMO Dr Hage Taker, Tax & Excise and Narcotics Superintendent Takhe Riniyo, Ziro Police Station OC Millo Lalyang, and advocate Duyu Chada spoke on issues like drug addiction and the Narcotic Drugs and Psychotropic Substances Act, 1985.
TSD general secretary Taku Chatung informed that "after completion of all 16 panchayat segments within Ziro, TSD will launch a comprehensive action plan during International Day for Anti-Drugs on 26 June."
"We have invited all gaon burahs and buris, and the student union of Diibo panchayat segment has been invited to attend the programme, so that chain of awareness activities can be launched by them in their respective villages," he said.
Among others, ZPM Koj Yana and members of the AWAZ, the AYA and the ASU attended the programme. (DIPRO)