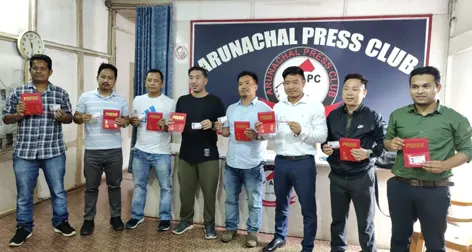 ITANAGAR, 7 Jun: Arunachal Pradesh Union of Working Journalists (APUWJ) President Amar Sangno handed over international press cards (IPC), issued by the International Federation of Journalists (IFJ), to 17 working members of the union at the Arunachal Press Club here on Tuesday.
Handing over the IPCs to the members, Sangno said that "the IPCs are issued only to IFJ affiliated national journalists' organisations, and the APUWJ is a member through the Indian Journalists Union (IJU)."
An IPC is one of the oldest and most reputable identification proofs for working journalists across the globe.
"An IPC is also considered one of the most effective cards for working journalists, which is accepted by more than 130 countries. IPC is an instant and internationally recognisable professional identification and is the only press pass endorsed by national journalists' organizations," Sangno said.
"Annually, 100 applicants can apply for the card along with a minimal cost for the jacketed card. Interested working journalists can contact the IJU through the APWUJ for IPCs," he said, adding that, "as the card is one of the reputed cards, it will benefit the local working journalist in cross-border journalism as well as while reporting from any conflict zone."
An IPC provides instant confirmation that the bearer is a professional working journalist. It is only issued to genuine journalists who are committed to ethical standards and solidarity between media professionals.
Sangno, who earlier attended the 31st IFJ World Congress-2022 organised by the Oman Journalists' Association in Muscat, Oman, said that "it was a privilege to attend as well as represent the country in the international congress."
Sangno was nominated as a steering committee member for the proceedings of the Federation of Asia-Pacific Journalists, where he could share his opinions with other IFJ members.
"The four days of the IFJ world congress was a learning experience for me. Besides meeting inspiring journalists during the meeting, I learned about the workings of various international journalist unions and their approach towards the safety and integrity of journalists," he added.
He informed that, usually issues related to journalists in every country are placed in the IFJ meetings. "A sturdy resolution is being brought out and accordingly, it is being tabled in the UN and the UNESCO and being submitted to the authorities concerned of the countries.
The IPCs were launched at the Monaco IFJ World Congress in 1927.