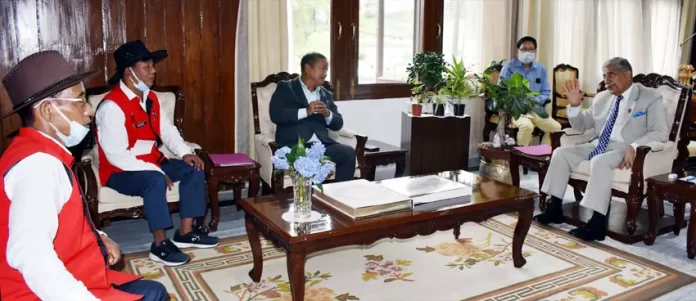 ITANAGAR, 9 Jun: It is the duty of every individual to contribute in promoting a sense of security among the people, Governor BD Mishra said.
During a meeting with gaon burahs (GB) from Longding district at the Raj Bhavan here on Thursday, Mishra called upon the people to cooperate with the security forces in maintaining peace and amity in the state.
Expressing concern over the law and order situation in Tirap, Changlang and Longding districts, the governor also advocated "strengthening the intelligence inputs and welfare measures for the militancy-affected areas."
The governor reminded the GBs that they are now constitutionally recognised as Wancho tribe "and they must not get trapped in other tribes' web." He urged the GBs to prevent the youths from joining underground outfits, and to "win over their youths from such groups back to the main social stream."
Mishra told the GBs that they must ensure that "the villagers avail maximum benefits out of the relevant projects and schemes," and stressed on education and healthcare at the village level.
The governor and Home Minister Bamang Felix, who was also present, assured the GBs that steps would be taken to mitigate their issues. (Raj Bhavan)