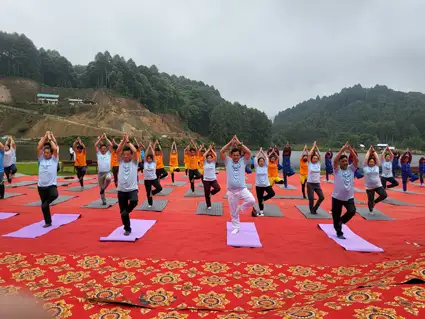 ZIRO, 9 Jun: Union Ports, Shipping & Waterways Minister Sarbananda Sonowal joined a Yoga Utsav organised near Swekhe Lake here in Lower Subansiri district on Thursday as part of the 12 days' countdown to the International Day of Yoga on 21 June.
Urging all to reap the benefits of yoga, the minister said, "Yoga should be made a part of our lives. It is a way of living that aims towards a healthy mind in a healthy body. Regular yoga practice creates mental clarity and calmness, relieves chronic stress patterns and relaxes the mind and the body."
The union minister informed that the theme for this year's International Day of Yoga, 'Yoga for humanity', "has been carefully chosen after a lot of deliberation, keeping in mind how yoga benefitted the humanity during the Covid-19 pandemic."
"This year's event will also feature an innovative 'guardian ring' programme, which will be witnessed by people from different countries. The event, in which 25 crore people across the world are expected to participate, will be streamed live from Japan from 6 am onwards and move towards the West," Sonowal said.
"Seventy-five iconic national sites will be chosen for mass demonstration of yoga," he added.
Among others, Agriculture Minister Tage Taki, Education Minister Taba Tedir, Assam Petrol Chemical Ltd chairman Bikul Deka, the DC, HoDs, PRI members, and students from VKV Ziro and Ziro Valley School participated in the event. (DIPRO)