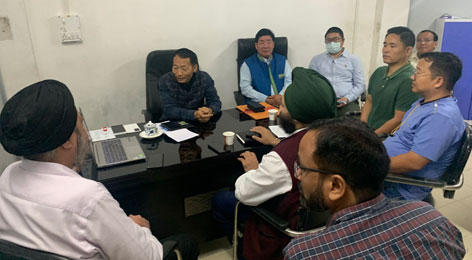 ITANAGAR, 17 Jun: Itanagar Capital Region Deputy Commissioner Talo Potom visited the Ganga market here on Friday to take stock of the difficulties faced by the vendors, and the implementation of the smart city project for the benefit of the vendors.
The DC was accompanied by IMC Assistant Commissioner Datum Gadi, engineers of the Itanagar Smart City Development Corporation Limited, and a team of the APMC, led by its Vice Chairperson Tadar Akap.
The ISCDCL has proposed to give a facelift to the Ganga market by constructing a multi-level vending zone with modern amenities. The proposed structure would be a prefabricated one to reduce the construction time.
The DC assured to provide an alternative temporary vending area to the affected vendors during the period of construction, and asked the vendors to cooperate with the administration, saying that "the multi-level vending zone would accommodate a lot of vendors once it is constructed."
Later, the DC convened a meeting in his office here to review the progress of work for the 'Artesian-cum-Handicraft Exhibition Centre' at the WRD Complex in Chimpu.
Engineers from the ISCDCL informed that the centre would be a prefabricated structure to cut the construction time. (DIPRO)