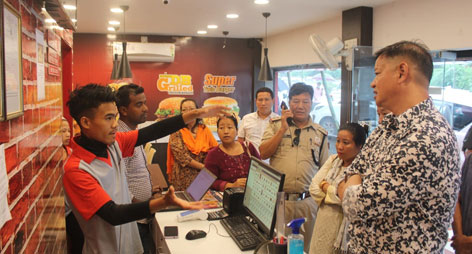 ITANAGAR, 17 Jun: Itanagar Municipal Corporation (IMC) Mayor Tame Phassang informed that the IMC has taken cognisance of the 15 June incident, involving physical assault on the staffers of 'Meat & Eat' outlet here, and said that the IMC would take up the issue with the highest authorities, so that the victims get justice and such incident is not repeated.
The mayor said this after visiting the 'Meat & Eat' outlet here along with IMC Commissioner Likha Tejji and corporators on Friday.
Speaking to reporters, the mayor strongly condemned the incident and said, "IMC always endorses for clean, green and peaceful Itanagar. However, such incident brin-gs a bad name to the society."
"IMC being the licence issuing authority, as notified by the state government in 2015, as well as a constitutional body, it is our responsibility to look into such issues under its jurisdiction to maintain a peaceful environment for all," said Phassang.
Itanagar Police Station OC Phassang Simi, who was also present, informed that eight people have so far been arrested in connection with the incident.
"All of them have been booked under relevant sections of the IPC (inflicting grave injuries, trespass, threatening, and group attack)," he said.