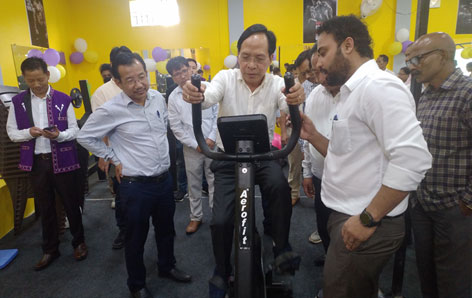 [ Pisi Zauing ]
MIAO, 19 Jun: Miao MLA and Urban Development Minister Kamlung Mossang dedicated a series of assets to the public here on Saturday, in the presence of Changlang DC Sunny K Singh and others.
Mossang inaugurated the Miao Fyt Gym, and a basketball court developed in the premises of the Miao boys' hostel.
The MLA also inaugurated the scheme under the 'Improvement of waste management system at Miao' project and the installation of dustbins in public places to discourage littering.
Mossang also launched the 'career chart' prepared by NGO SEED in collaboration with the district administration. The chart will guide the students in choosing their careers after passing Class 10 or 12.
The DC on his part flagged off bicycles for tourists' use at the Namdapha National Park & Tiger Reserve.
Addressing the gathering, Mossang said, "The gym will help the people remain fit, while the dustbins will keep the township neat and clean, the career chart will provide the required guidance for the students, and cycling at Namdapha will help tourists enjoy green ride and help them to explore in a better way."
He expressed hope that the people of Miao would use and maintain the assets properly.
The DC also spoke.
Among others, ADC Ibom Tao, EACs Apollo James Lungphi and Namrata Bhatt, ZPMs Asamto Tikhak and Khumko Mossang, HoDs and PRI members attended the programme.