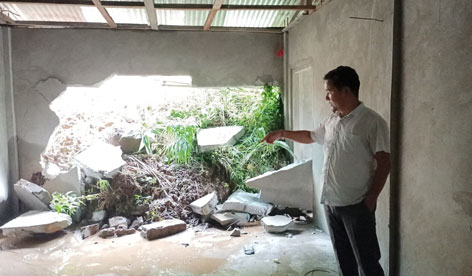 ITANAGAR, 21 Jun: Tali MLA Jikke Tako, along with PRI leaders of Tali on Tuesday visited several landslide- and flash flood-hit areas in the Itanagar Capital Region (ICR), and interacted with the affected families.
Speaking to reporters, the MLA informed that several residents of Tali constituency residing in various parts of the capital have suffered losses due to rain-triggered landslides and flashfloods.
The MLA informed that he was able to reach 25 affected families residing in various sectors and colonies.
"We cannot fight nature but can remain safe if we adopt precautionary measures and remain alert during monsoon. I request all to stay away from landslide and flood prone areas, and to take extra precautionary measures," he said.
Tako and his team visited Donyi Sho near Sangrik Hapa Colony, Chimpu, Papu Nallah, Modirijo, Jamijate, ESS Sector, Ajin Colony, Jully, Hilltop Colony, and other areas.