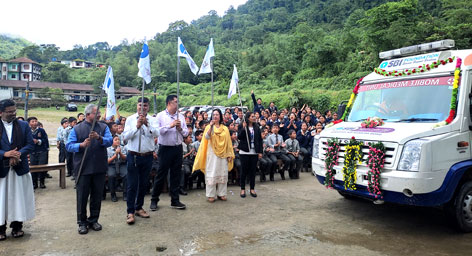 KHONSA, 1 Jul: An SBI Sanjeevani clinic-on-wheels – a mobile medical unit project of the SBI Foundation – was flagged off by the SBI's Tinsukia (Assam) Regional Manager Susanta Chakraborty from Kheti village here in Tirap district on Friday.
The SBI Foundation has partnered with the ANMA Integrated Development Association (AIDA) Don Bosco to provide primary, preventive, diagnostic, curative and referral health services at the doorsteps of the communities in the remote villages of Tirap district.
SBI Sanjeevani is currently being implemented in 21 states and union territories, covering over 400 remote villages, and is serving a population of close to 5 lakhs. These mobile medical units are equipped with state-of-the-art diagnostic facilities and are accompanied by a dedicated medical team consisting of a doctor, a lab technician and a pharmacist.
Along with the clinical facilities, these units will also run specialised health and awareness camps in remote villages. The project also leverages collaborations with the state and local health departments/medical colleges for support.
Chakraborty, who flagged off the unit in the presence of DMO Dr N Lowang, DRCHO Dr T Gao, Jorhat (Assam) SBI Cluster Manager Gopal Paul, Mumbai SBI Foundation Programme Manager Suveena Doddalingannavar, and officials of the AIDA, said, "The SBI Sanjeevani clinic-on-wheels is a unique initiative where the state and local health departments, local NGOs and SBI Foundation work in unison."
Dr Lowang said that "serving rural communities is one of the challenging tasks and the SBI, with its longstanding presence as a premier bank, provides greater reach through SBI Sanjeevani. As a corporate citizen, the SBI is undertaking various CSR initiatives across the country and thus helping in nation-building."
Doddalingannavar presented a brief on the programme and its "strategic convergence with other stakeholders for better reach and impactful services to the people through SBI Sanjeevani."
The SBI Foundation is the CSR arm of the State Bank of India. The foundation currently works in over 27 states and union territories of India, on rural development, healthcare, education, livelihood and skill development, youth empowerment, promotion of sports, and more.