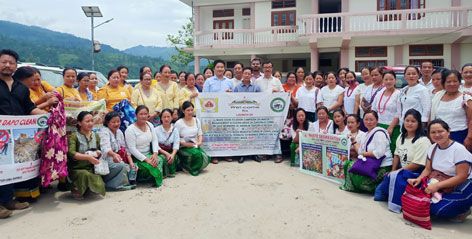 DAPORIJO, 6 Aug: Upper Subansiri DC Mika Nyori on Saturday launched a door-to-door campaign here to spread awareness among the residents about cleanness.
Stating that waste management in Daporijo town is a big challenge, the DC appealed to the residents to "shoulder the responsibility to keep their township clean."
Nyori urged SHGs and the urban development (UD) department to start the campaign to educate the people about the importance of cleanliness.
Town Magistrate Tanam Kyali said that he would check shops and markets regularly to enforce the ban on the use of single-use plastic (SUP) items.
"No individual or shopkeeper will be allowed to use the banned items, especially polythene carry bags," Kyali said, adding that an order in this regard has already been issued.
Various SHGs under the ArSRLM in the district are producing locally made carry bags, made of unused clothes and papers, as alternatives to SUP items.
More than 200 bags were distributed to the HoDs to promote and encourage locally made bags.
UD AE Tate Nalo appealed to all stakeholders to cooperate with the UD department in beautifying the township and maintaining cleanliness. (DIPRO)