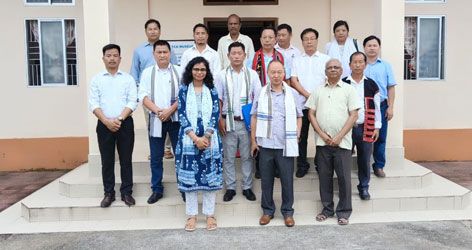 ROING, 6 Aug: North Eastern Council (NEC) Secretary K Moses Chalai took stock of the progress of various NEC-funded projects in Lower Dibang Valley district.
The NEC secretary held a detailed discussion with DC Soumya Saurabh, administrative officials and heads of various departments regarding various ongoing projects, and expressed happiness over the "rapid progress of developmental projects in the eastern part of the state."
Chalai said that the district has vast potential for growing horticultural crops like ginger, turmeric, palm oil, etc.
The DC apprised the NEC secretary of issues such as poor mobile network and road connectivity in certain parts of the district.
Earlier, Chalai visited the Research Institute of World's Ancient Traditions Culture and Heritage (RIWATCH) in Khinjili and inspected the museum, the library, and the under-construction buildings located within its campus.
The secretary was accompanied by NEC Science & Technology Director Tanung Jamoh and Joint Planning Director Okep Tayeng.
RIWATCH executive director Vijay Swami, ZPM Rajen Microw, and DPO M Dirchi were also present. (DIPRO)