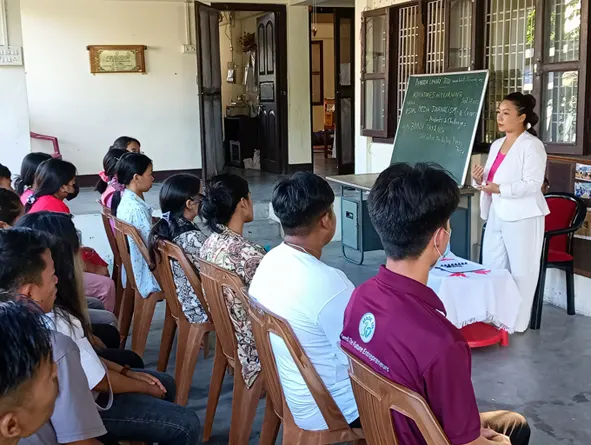 TEZU, 5 Oct: A month-long 'Saturday motivational talk series' for higher secondary school and college students, themed 'Adventures in learning – youth achievers share their stories for you,' concluded at the Bamboosa Library here in Lohit district on 1 October.
During the programme, which was aimed at bringing to the students and youths 'new inspirational experiences from their own neighbourhood,' young achievers from various backgrounds shared their achievements and experiences every Saturday and interacted with the listeners, the Bamboosa Library informed in a release, adding that "the talks brought new ideas, knowledge to the local youths and gave them an opportunity to introspect how they could strive to come up in life."
Queenchilu Tayang, an engineering student in the
 Czech Republic, Europe, who has been doing her studies with fully funded scholarships, spoke on 'How to explore and avail scholarships for higher studies and abroad,' while Dechaiso Ngadong, a 4th year MBBS student in Ukraine, shared his "adventures in studying in a new country," and offered practical tips on how to adjust to an environment, even in adverse conditions.
Wildlife Institute of India researcher Sirumai Khusiali Kri spoke on Arunachal's flora and fauna in her talk titled 'What wildlife can teach us,' and YouTuber Biyalu Tayang delivered a talk on 'Visual media journalism as a career: Prospects & challenges.'
Well-known footballer from Lohit, Izaan Pul, who had played in the Santosh Trophy tournament, delivered a speech on 'Sports as a career: Passion, purpose & profession,' and RGU PhD scholar Hemant Gamre spoke on 'Research in physical education – Purpose and benefits.'
Meanwhile, the Bamboosa Library is also organizing a 'Read aloud skills workshop' for BEd trainees from 5 October, in collaboration with the Denning College for Teacher Education.
Earlier, read aloud workshop sessions were conducted by Medo-based Forum of Activists of Lohit Youth Libraries on 2 October.
The sessions consisted of read aloud demonstrations, poem recitations and reading theatre.
While Sakelu Chikro and Jeenamsi Ngadong recited a poem titled 'Homework, O Homework!,' a reading theatre session on 'Morris Has a Cold' was conducted by Keselo Tayang and Bethem Marai and another on 'Gajapati Kulapati the Elephant' was presented by Keselo Tayang, uncle Moosa, Bethem, Sakelu, Lakhilu and Jeenamsi Ngadong.