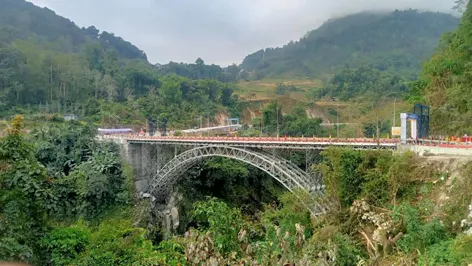 100-metre steel arch superstructure over Siyom
BOLENG, Jan 3: Defence minister Rajnath Singh on Tuesday asserted that India has every capability to thwart challenges along the border to protect the country's territory.
Singh also said India never encourages war, and always wants to maintain cordial relations with its neighbours.
"However, the Indian Army has the capability to face any challenge along the border and is ready to deal with any situation," he said during the inauguration of a Border Roads Organization (BRO) bridge here.
"India is a country which never encourages war and always wants to maintain cordial relations with its neighbours.. This is our philosophy inherited from Lord Rama and from the teachings of Lord Buddha. The country has every capability to face any kind of situation if provoked," Singh said.
Indian and Chinese troops had clashed along the Line of Actual Control (LAC) in the Tawang sector of Arunachal Pradesh on December 9, and the face-off resulted in "minor injuries to a few personnel from both sides," the Army had said.
The defence minister said the central government has attached top priority in developing infrastructure to strengthen the border.
"The new bridge will not only facilitate easy movement for locals, but also help in faster induction of troops, heavy equipment and mechanised vehicles to forward areas," he said.
The 100-metre Class-70′ steel arch superstructure on the Aalo-Yingkiong road between West Siang and Upper Siang districts, is one of the 28 projects completed by the BRO at a cost of Rs. 724.3 crore to bolster border infrastructure.
Singh also virtually inaugurated the 27 other projects of the BRO.
Of these, eight have been constructed in Ladakh, four in Jammu and Kashmir, five in Arunachal Pradesh, three each in Sikkim, Punjab and Uttarakhand and two in Rajasthan.
 Singh described the projects as a testament to the concerted efforts of the government and the BRO towards the development of border areas in order to enhance the operational preparedness of the armed forces, and ensure socio-economic development of far-flung regions.
"The world is witnessing a number of conflicts today. India has always been against war. It is our policy. Recently, Prime Minister Narendra Modi drew the world's attention to that resolve when he said 'this is not the era of war.'
"We do not believe in war, but if it is forced upon us, we will fight. We are ensuring that the nation is protected from all threats. Our armed forces are ready and it is heartening to see that the BRO is walking shoulder-to-shoulder with them," he said.
Singh said that in 2021, BRO completed 102 infrastructure projects.
In 2022, along with these 28 projects, the organization has dedicated a record 103 infrastructure projects to the nation, the defence minister said.
"The BRO has also connected the farthest and most remote villages of the country like Huri Village in Arunachal Pradesh to the mainland. This connectivity has triggered reverse migration in these areas, where population increase is being witnessed with the commencement of basic amenities like schooling facilities and primary health care centres, electric supply and employment opportunities," Singh added. (PTI)