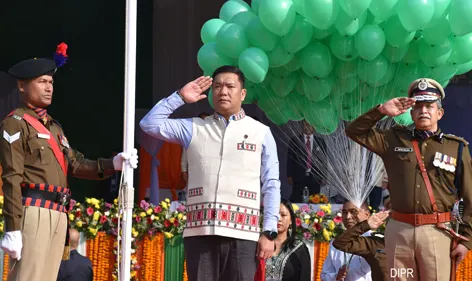 Staff Reporter
ITANAGAR, 27 Jan: Chief Minister Pema Khandu on Thursday exhorted the people of the state to join hands with the government in its crusade against the drug menace.
He appealed to the leaders of various communities to take part in programmes launched by his government for prevention of substance abuse, especially by the youths.
"We are committed to achieving drug-free Arunachal through various means, but all of these measures will require multi-sectoral coordination among departments, and more importantly, cooperation from the society," the chief minister said after unfurling the tricolour at IG Park here on the occasion of the country's 74th Republic Day.
A colourful parade displaying military might was followed by cultural performances at the programme.
Khandu also awarded three gold medals, seven silver medals and 16 commendation certificates to persons in various fields for their meritorious work.
The CM said that a special 'anti-narcotics task force' has been formed and a 'narcotic helpline' instituted to generate information about the menace and break the supply chain.
"I appeal to the people to help this endeavour by generating intelligence for targeted action," he said.
Citing the success story of Medo village in Lohit district, where pumpkin cultivation has replaced illegal poppy seed farming, the chief minister urged people to intensify the war against opium.
He advised them to take up alternative cash crop farming like ginger, mustard and tea.
Talking about the development initiatives in the state, Khandu said that his government has successfully completed 365 projects in various sectors at an investment of Rs 11,399.49 crore, as promised last year.
"The rainbow of our achievements spread from infrastructure overhaul and connectivity improvement to health and education systems transformation and use of technology for welfare of children, women and farmers," he said.
Khandu expressed his gratitude to Prime Minister Narendra Modi for sanctioning various projects in the state, including the strategic Arunachal Frontier Highway, benefitting its population.
"In seventy years since independence, only 20,000 kilometres of roads were built in the state, with an average of 280 kms per year, but in the past seven years alone, 12,000 kms more have been added," Khandu noted.
"I am also happy to announce that the union ministry of road transport and highways has approved an additional 2,574 kms of highways for the state, worth Rs 44,000 crore," he said.
Iterating that his government has adopted a "zero tolerance approach" towards corruption, Khandu said that a robust framework of standard operating procedures is being formulated to check malpractices.
"The state government will not tolerate crimes such as the Arunachal Pradesh Public Service Commission (APPSC) paper leak scam," he said, and added that "it is unfortunate that the image and reputation of a constitutional body like the APPSC has been tarnished by a few corrupt officials."
Asserting that his government has acted swiftly and is doing everything in its power to punish the culprits and bring the issue to its logical conclusion, Khandu said, "I once again assure the citizens of the state that such crimes shall not be tolerated."
Referring to the decades-old boundary dispute between Arunachal and Assam, Khandu said that, under the Namsai Declaration adopted on 15 July last year, both the state governments have decided to amicably resolve all issues.
The CM called upon the people to remain rooted in their identity, traditions and collective history. (With PTI input)