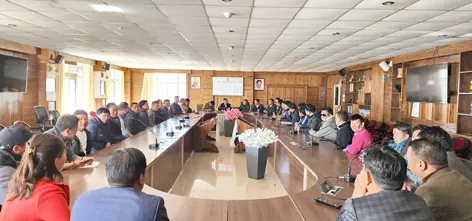 TAWANG, 30 Jan: Tawang District Election Officer (DEO) Kesang Ngurup Damo convened a meeting with members of the district units of all political parties here on Monday, in the run-up to the by-election in Lungla assembly constituency.
"As per guidelines received from the Election Commission of India (ECI), we have prepared ourselves for the by-election for Lungla ST assembly constituency on a war footing, but it was necessary to have a meeting with all the political parties, PRI members and senior members of the society to officially convey to them the gazette notification issued by the ECI," the DEO said.
 He requested the political parties to not violate the model code of conduct, and to ensure a free and fair election.
Returning officer (RO) for the by-election, RD Thungon, said that, "like earlier elections, the RO office for by-election will be in Tawang, and this is being done due to network issue."
"Moreover, all the election materials are in Tawang and shall be commissioned in Tawang only," he added.
"All election-related complaints are to be filed through C-Vigil, and all the nominations will be done offline in RO office, and permission for election-related works need to be applied through the Suvidha app," he said.
Thungon informed also that the Tawang election office "has proposed three all-woman polling station in the by-election for the Lungla assembly constituency."
SP Bomge Kamduk urged the political parties to "help maintain peace, follow guidelines, and do campaigning for your candidates in a rightful manner." (DIPRO)