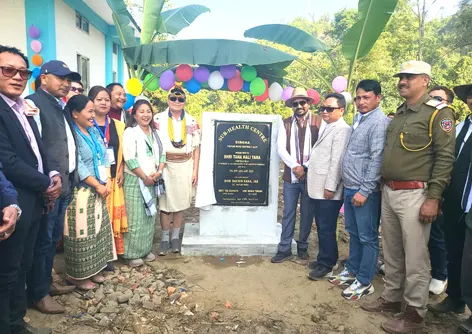 DOIMUKH, 30 Jan: Doimukh MLA Tana Hali Tara inaugurated a slew of development projects in Dirgha and Kakoi in Kakoi circle of Papum Pare district on Monday.
He inaugurated the health sub-centre in Dirgha; the community hall in Lower Jumi; the micro irrigation projects (MIP) in Langchap Nallah and Lower Jumi; and the MIPs in Puksha and Bijli Nallah.
The MLA also inaugurated the water tank under the JJM in Lower Jumi; the community hall in Tanoo Hapa; the flood protection wall in Tanio Happa; the veterinary dispensary office in Kakoi; and the panchayat office in Kakoi.
Later, addressing the public in a function organised at Dirgha Forest by the PRI members of Kakoi circle, Tara advised them to adopt sustainable development and economic activities.
"Adopting development and economic activities that are sustainable will ensure self-reliance, strengthen community bonds, improve quality of life, protect natural resources, and provide a hope for a better future," he said.
Speaking about the boundary issue with Assam, he gave assurance that the issue would be solved amicably, according to the decision of the regional committees of the two states.
Papum Pare DC Sachin Rana, who was also present, urged the people of Kakoi circle to "help the administration in the upkeep of the government infrastructures by keeping them clean and encroachment-free."
He requested the MLA to consider the memorandum submitted by the organising committee, which included request for a link road between Dirgha and Keden villages, flood control measures, and a community hall in Dirgha.
HoDs, PRI members, GBs and others accompanied the MLA. (DIPRO)